Profiloplasty is quickly becoming a popular treatment and is defined as several non-surgical procedures combined in order to balance an individual's facial features and improve their side profile.
Non-invasive facial treatments
This treatment approach focuses on harmonising your facial features through making subtle changes that create a significant difference correcting imbalances between your nose, chin, lips, cheeks, and jawline.
This non-surgical approach to improving your silhouette uses dermal filler to emphasise certain features and improve your overall profile. By using dermal fillers to strategically add volume, features can be subtly yet effectively realigned to give a harmonious appearance between your key features.
CHIN AUGMENTATION
Some patients may find their chin is smaller in proportion to their nose and other facial features. This will make the nose appear more prominent and compromise your facial balance. Dermal filler can be used to augment the chin. When dermal filler is strategically placed into the targeted areas of the chin, it will add volume and make the chin appear more substantive.
NON-SURGICAL RHINOPLASTY

The nose is the central feature of the face and plays a crucial role in maintaining facial balance. If your nasal tip is small, the bridge has a conspicuous bump, or the overall size of your nose is undermined in comparison to the chin and other facial areas, it can create facial imbalance.
Dermal filler can be used to enhance the shape and size of the nose in proportion to the chin and other facial features.
LIP ENHANCEMENT
Lip filler can subtly and naturally enhance your lips and improve your overall facial profile. By adding volume to your lips you can improve the alignment of your nose, lips and chin to achieve the perfect side profile.
This is an individualised treatment, fulfilled with the custom prescription of dermal filler based on the optimum result being achieved for the patient. During your consultation with your clinician a full facial assessment will be carried out to formulate the ideal treatment to achieve the best profile balancing outcome. About 15-20 minutes before the treatment takes place, a prescription anaesthetic cream is applied to the injection sites. The filler is then injected at precise locations before the skin is massaged to smooth the material. The whole treatment takes around 30 minutes. Results can be seen immediately, and you will be given a mirror to see the difference as soon as the treatment is finished.
SUITABLE FOR?
The treatment is suitable for anyone who is unhappy with aspects of their facial profile or who want to enhance their facial features. However, this treatment should be avoided by anyone with muscle problems; nerve damage; or who is pregnant or breastfee.
PRICE
Price given in consultation
Profiloplasty or Profile balancing treatment is designed to improve the balance and harmony between your facial features. Many patients are unhappy with a less defined side profile and feel they have a 'flat face' from the side. Your clinician will formulate a personalised plan using a combination of treatments to achieve your dream side profile.
Overall improved facial profile.
No anaesthetic is required.
WHAT IS PROFILOPLASTY?
Profiloplasty or profile balancing is a popular approach to improving your side profile without the need for surgery. Dermal fillers are an excellent tool to balance your facial features and improve your overall appearance. Many patients don't want an invasive treatment so this non-surgical option is the perfect solution.
IS PROFILOPLASTY SAFE?
Yes Profiloplasty uses dermal fillers which are made up of molecular structures of Hyaluronic Acid, a substance already taking place in the body, there is a significantly decreased risk of an adverse reaction, and so this is a very safe treatment.
HOW DOES PROFILOPLASTY WORK?
By strategically placing dermal filler in certain areas to add volume and improve the shape, the overall facial profile is harmonised. Subtle changes can drastically improve the appearance of your side profile. During your consultation your clinician will look at your nose, lips and chin to assess if they are creating an unbalanced profile. Jawline and cheek filler can also help to achieve optimal results.
Depending on the areas treated and the metabolism of the patient, results can last from 6-12 months.
If you suffer from cold sores, make sure that you have an oral prescription prior to your treatment as it may provoke an outbreak.
Common injection related effects may include:
Swelling
Redness
Pain
Itching
Discolouration
Tenderness
These symptoms should resolve in 2-7 days.
Do not take aspirin, ibuprofen or Advil for two days after treatment; also, avoid them for one week prior to treatment
Do not use ice on swollen areas after treatment
Avoid exercise, except for walking, for 24 hours after treatment.
Check out some of our incredible results below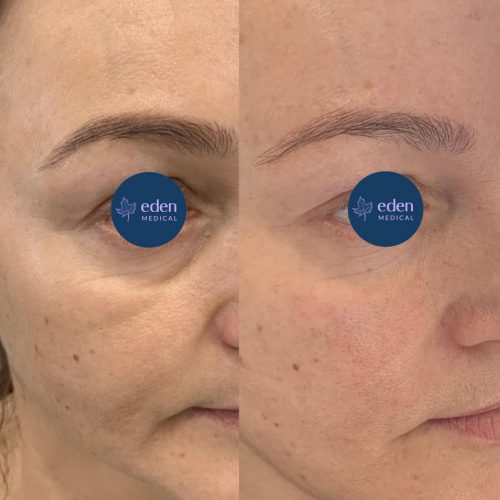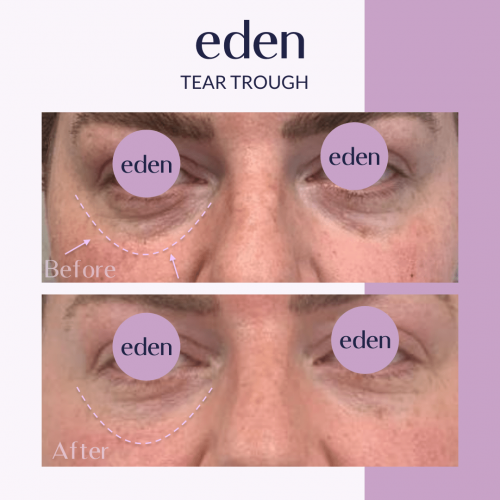 Book your appointment at one of our clinics online today
Need further information or wish to discuss treatment options?
Book your complimentary
clinic consultation
We are delighted to offer you a free clinic consultation with our qualified Doctors
– simply fill out the form below and we'll be in touch.
Our latest pricing guide is available here
Hmm is a retail installment payment plan facility, an easy alternative to paying with cash or credit card for your goods. Eden Medical now accepts payments via Humm.
*Terms and conditions apply. Subject to credit assessment and approval– Minimum Purchase of €80.00 –
To apply you need to be – Over 18 Years of Age – An Irish Citizen or Permanent Resident in Ireland – Earn a Minimum of €21k per year –
Provide proof of PPS number & Address – Have a Credit / Debit Card & Photo ID – Have a Good Credit History. Finance provided by FlexiFi Europe Limited.
Give the gift
of confidence
Treat yourself or a loved one to a gift voucher from Eden Medical
Follow us on facebook & instagram
SUBSCRIBE TO OUR NEWSLETTER
Subscribe to our newsletter for all our latest news and offers