Jawline filler is the perfect, non-invasive way to contour your jawline and give your face structure and more youthful look. Delivered by our highly qualified medical professional team after an initial consultation to discuss your needs, dermal fillers containing Hyaluronic Acid are carefully injected into your skin to plump up your jowls (sagging skin under the jaw) and fill wrinkles. The result is a naturally younger-looking face and a sharper jawline.
WHAT TO EXPECT
About 15-20 minutes before the treatment takes place, a prescription anaesthetic cream is applied to the injection sites. The filler is then injected at precise locations before the skin is massaged to smooth the material. The whole treatment takes around 30 minutes. Results can be seen immediately, and you will be given a mirror to see the difference as soon as the jawline filler is injected.
SUITABLE FOR
Dermal fillers are suitable for most people except for those who are pregnant or breastfeeding.
Available
Cork, Dublin, Kerry, Kilkenny and Waterford clinic.
Prices
€300-770
Doctor / Senior Doctor
1ml  €300/ €330 | 2ml €550 /€595  | 3ml €700 / €770
Duration: 20-40mins
£230-650
£230 for 1ml | 2ml £450 | 3ml £650
Duration: 20-40mins
The saggy skin that appears below your chin as you age is called 'jowls'. These appear over time as the skin thins and loses its elasticity, and almost everyone will develop them. Many factors lead to the development of jowls including smoking, genetics, sun exposure, weight loss, and extensive phone and computer use. There is a solution, however: dermal fillers can be injected into the hollow between the chin and the jowl. This masks the gap by providing a smooth transition from the chin to the jaw line.
WHAT ARE DERMAL FILLERS?
Dermal fillers are used to smooth the appearance of deep grooves and facial wrinkles. They are produced using Hyaluronic Acid, a substance that is found occurring naturally in the body. They lift and smooth folds and wrinkles by adding volume and giving definition and structural support to the face.
ARE DERMAL FILLERS SAFE?
As dermal fillers are made up of molecular structures of Hyaluronic Acid, a substance already taking place in the body, there is a significantly decreased risk of an adverse reaction, and so are very safe treatments.
HOW DO DERMAL FILLERS WORK?
Dermal fillers work by adding volume to the injection sites. They can fill wrinkles and plump the cheeks, thereby giving your face a fresher, more youthful look. The Hyaluronic Acid in the filler also attracts water molecules to the injected area so moisture is locked in to the area and your skin will feel more hydrated.
Depending on the areas treated, and the metabolism rate of the patient, dermal fillers can last from 3-6 months. The Hyaluronic Acid is broken down by the body so repeat treatments will be necessary if you wish to maintain a specific look.
If you suffer from cold sores, make sure that you have an oral prescription prior to your treatment as it may provoke an outbreak.
Common injection related effects may include:
Swelling
Redness
Pain
Itching
Discolouration
Tenderness
These symptoms should resolve in 2-7 days.
Do not take aspirin, ibuprofen or Advil for two days after treatment; also, avoid them for one week prior to treatment
Do not use ice on swollen areas after treatment
Avoid exercise, except for walking, for 24 hours after treatment.
Check out some of our incredible results below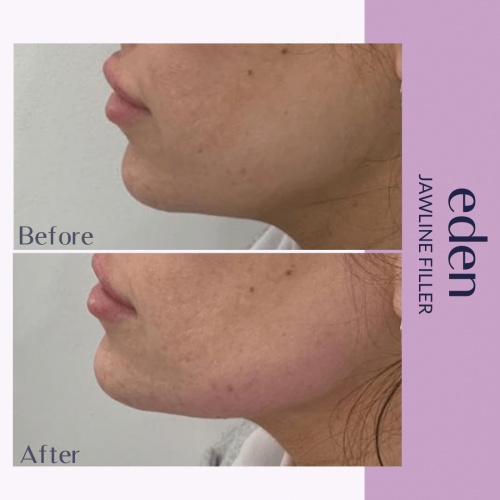 Book your appointment at one of our clinics online today
Need further information or wish to discuss treatment options?
Book your complimentary
clinic consultation
We are delighted to offer you a free clinic consultation with our qualified Doctors
– simply fill out the form below and we'll be in touch.
Our latest pricing guide is available here
Hmm is a retail installment payment plan facility, an easy alternative to paying with cash or credit card for your goods. Eden Medical now accepts payments via Humm.
*Terms and conditions apply. Subject to credit assessment and approval– Minimum Purchase of €80.00 –
To apply you need to be – Over 18 Years of Age – An Irish Citizen or Permanent Resident in Ireland – Earn a Minimum of €21k per year –
Provide proof of PPS number & Address – Have a Credit / Debit Card & Photo ID – Have a Good Credit History. Finance provided by FlexiFi Europe Limited.
Give the gift
of confidence
Treat yourself or a loved one to a gift voucher from Eden Medical
Follow us on facebook & instagram
SUBSCRIBE TO OUR NEWSLETTER
Subscribe to our newsletter for all our latest news and offers