Anti wrinkle injections are a tried-and-tested safe and effective way to get a smoother and more youthful-looking face. Anti-wrinkle injections are administered by our highly qualified medical staff, each of whom is experienced in delivering just the right dose to give you the natural result you want.
WHAT TO EXPECT
The treatment takes about 15 minutes during which a local anaesthetic is applied to the injections sites on your face. Once you are ready, small quantities of the Anti wrinkle serum are injected. A follow-up review can be scheduled two weeks after the treatment.
STANDARD
The 'standard' result offers a degree of movement in the muscle. Lines will appear reduced, skin will appear smoother and you will be able to maintain some movement associated with expression. Standard doses are administered.
STRONG
The 'strong' result offers little to no movement in the muscle. If you want a more frozen look, this is the option for you. Doses administered will be higher than if you chose the 'standard' option.
PRICE
€145-365
Standard €145 1 area | €205 2 areas | €255 3 areas | €295 4 areas | €335 5 areas Strong €175 1 area | €235 2 areas | €285 3 areas | €325 4 areas | €365 5 areas
£120-350
Standard £120 1 area | £170 2 areas | £220 3 areas | £270 4 areas | £320 5 areas Strong £150 1 area | £200 2 areas | £250 3 areas | £300 4 areas | £350 5 areas
Do you have worry lines, crow's feet and other facial wrinkles you'd prefer not to see when you look in the mirror? Anti-wrinkle injections using Anti wrinkle are a popular, non-invasive method of giving you a smoother-looking face. These injections are safe and effective, and give a temporary result that can be refined over time to give you a natural result.
Pregnancy, breastfeeding, muscle problems, nerve damage
Anti-wrinkle injections work by blocking the nerve impulse to the muscles of your face that over time, causes wrinkles and permanent lines to form. These muscles gradually relax after the injections, giving your face a smoother look.
The treatment should last for around three to four months. The substances contained in the injections are broken down and absorbed by the body, and so additional treatments will be necessary to maintain your youthful look. A plan for regular follow-up treatments will be put together for you.
The side effects are minimal and temporary.
The most common injection related reactions are:
Swelling
Redness
Pain
Itching
Discolouration
Tenderness
These generally resolve within 2-7 days. If you suffer from cold sores, this treatment may trigger an outbreak.
To avoid swelling and bruising:
Do not take aspirin, ibuprofen, or Advil for two days after treatment, OR for one week prior to treatment
Do not ice the swollen area as you may disturb the product placed
Do not rub or massage face for four hours after treatment – this will spread the injected material to other muscles in your face
Avoid exercise, apart from walking, for 24 hours after treatment
Check out some of our incredible results below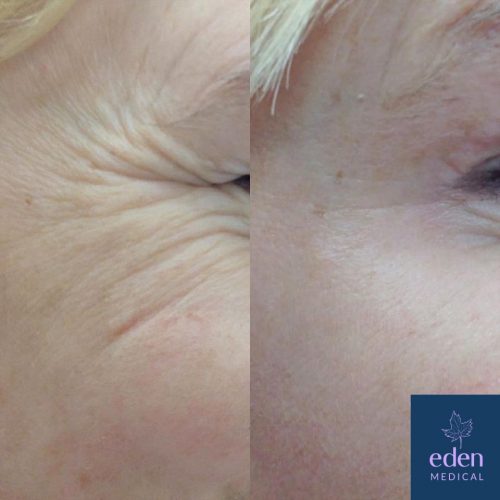 Book your appointment at one of our clinics online today
Need further information or wish to discuss treatment options?
Book your complimentary
clinic consultation
We are delighted to offer you a free clinic consultation with our qualified Doctors
– simply fill out the form below and we'll be in touch.
Our latest pricing guide is available here
Hmm is a retail installment payment plan facility, an easy alternative to paying with cash or credit card for your goods. Eden Medical now accepts payments via Humm.
*Terms and conditions apply. Subject to credit assessment and approval– Minimum Purchase of €80.00 –
To apply you need to be – Over 18 Years of Age – An Irish Citizen or Permanent Resident in Ireland – Earn a Minimum of €21k per year –
Provide proof of PPS number & Address – Have a Credit / Debit Card & Photo ID – Have a Good Credit History. Finance provided by FlexiFi Europe Limited.
Give the gift
of confidence
Treat yourself or a loved one to a gift voucher from Eden Medical
Follow us on facebook & instagram
SUBSCRIBE TO OUR NEWSLETTER
Subscribe to our newsletter for all our latest news and offers