Anti-wrinkle injections
Anti-wrinkle injections are the most popular aesthetic treatment in Ireland today. This non-surgical anti-wrinkle treatment reduces the appearance of fine lines and wrinkles by targeting specific facial muscles that cause wrinkles to appear. Anti-Wrinkle injections offer prevention & treatment at the same time and are a safe and effective aesthetic treatment to get smoother younger-looking skin. Cosmetic injections are administered by our highly qualified aesthetic doctors after a complimentary consultation to give the natural younger look you want.
Anti-wrinkle Injections are on the frontline of anti-aging treatments. When injected in small doses into targeted areas, it blocks the signals between the nerves and the muscles, causing the muscles to relax. They reduce the appearance of lines to produce a look that is fresh, more youthful, and most importantly, natural.
Prices
From €165.00
Doctor / Senior Doctor
Standard 1 area €165 / €180
Standard 2 areas €225 / €250
Standard 3 areas €275 / €305
Standard 4 areas €305 / €335
Standard 5 areas €345 / €395
Strong 1 area €195 / €210
Strong 2 areas €255 / €280
Strong 3 areas €305 / €335
Strong 4 areas €335 / €365
Strong 5 areas €375 / €425
From £120
Standard 1 area £120
Standard 2 areas £170
Standard 3 areas £220
Standard 4 areas £270
Standard 5 areas £320
Strong 1 area £150
Strong 2 areas £200
Strong 3 areas £250
Strong 4 areas £300
Strong 5 areas £350
WHAT TO EXPECT
The anti-wrinkle injections take about 15 minutes during which a local anaesthetic is applied to the injection sites on your face. Small quantities of the anti-wrinkle treatment are injected into the face to target muscles that would've caused creases to appear where collagen had been broken down over time and with ageing. A follow-up review can be scheduled two weeks after the treatment.
STANDARD  INJECTIONS
The 'standard' result offers a degree of movement in the muscle. Lines will appear reduced, skin will appear smoother and you will be able to maintain some movement associated with expression. Standard doses of anti-wrinkle injections are administered.
STRONG INJECTIONS
The 'strong' result offers little to no movement in the muscle. If you want a more frozen look, this is the option for you. Doses of anti-wrinkle injections administered will be higher than if you chose the 'standard' option.
ANTI-WRINKLE INJECTION AREAS
Anti-wrinkle injections are used to lessen wrinkles in different parts of the face for both men and women, with the most common areas being the sides of the eyes, forehead, bunny and barcode lines. They also treat other parts like the jawline, chin, downturned mouth, lips, gummy smile, and eyelids.
The side effects are minimal and temporary. The most common injection related reactions are:
Swelling
Redness
Pain
Itching
Discolouration
Tenderness
These generally resolve within 2-7 days. If you suffer from cold sores, this treatment may trigger an outbreak.
To avoid swelling and bruising:
Do not take aspirin, ibuprofen, or Advil for two days after treatment, OR for one week prior to treatment
Do not ice the swollen area as you may disturb the product placed
Do not rub or massage face for four hours after treatment – this will spread the injected material to other muscles in your face
Avoid exercise, apart from walking, for 24 hours after treatment
Anti-wrinkle treatment should last for around three to four months. Additional treatments will be necessary to maintain your youthful look.
FREQUENTLY ASKED QUESTIONS
Anti-Wrinkle Injections Before and After
Check out some of our incredible anti-wrinkle injection results below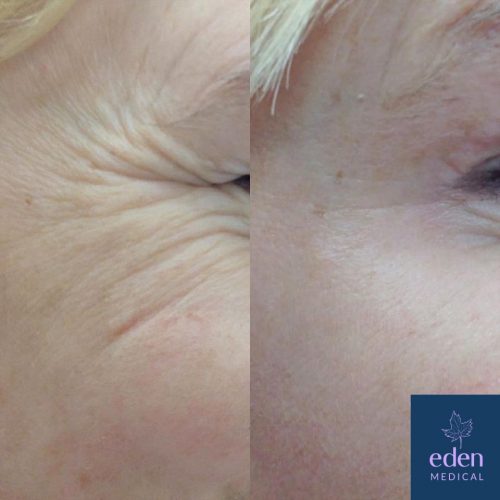 Pregnancy, breastfeeding, muscle problems, nerve damage
Our latest pricing guide is available here
Need further information or wish to discuss treatment options?
Book your complimentary
clinic consultation
We are delighted to offer you a free clinic consultation with our qualified Doctors
– simply fill out the form below and we'll be in touch.
Hmm is a retail installment payment plan facility, an easy alternative to paying with cash or credit card for your goods. Eden Medical now accepts payments via Humm.
*Terms and conditions apply. Subject to credit assessment and approval– Minimum Purchase of €80.00 –
To apply you need to be – Over 18 Years of Age – An Irish Citizen or Permanent Resident in Ireland – Earn a Minimum of €21k per year –
Provide proof of PPS number & Address – Have a Credit / Debit Card & Photo ID – Have a Good Credit History. Finance provided by FlexiFi Europe Limited.
Follow us on facebook & instagram
SUBSCRIBE TO OUR NEWSLETTER
Subscribe to our newsletter for all our latest news and offers